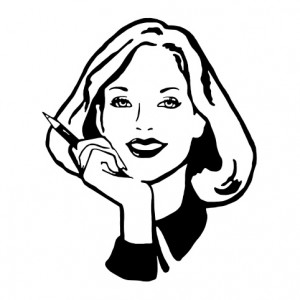 Sarina Rowell was born in Sydney, and lived there until she was practically a dowager, but now resides in Melbourne, 'City of Literature'.
She was the co-editor of popular humour website The Scrivener's Fancy, as well as one of its regular columnists. She's had a column in the Age; and contributed to The Drum, The Big Issue and The King's Tribune, as well as to humour anthologies She's Having a Laugh: 25 of Australia's Funniest Women on Life, Love and Comedy and Best Australian Comedy Writing 2016. Her ebook, Not To Be Rude, is out now. She's also the co-writer, with Tony Martin, of Childproof: The Podcast, winner of Best Comedy at the 2018 Australian Podcast Awards. 

Perhaps her favourite thing is a telemovie about, or racily written account of, anyone who is 'living a lie': for example, a venerable individual who is a judge and a respected family man, yet has a whole different wife and set of children living on the other side of town, and neither group is aware of the other's existence until the entire house of cards comes crashing down!
Most of her Scrivener columns appear on this website, and here are links to some of her other pieces:
* The overseas travel bug
* Children of parents
* A tale of one city… and another city
* It's hard to command respect when you cannot legally operate a vehicle
* Junior Masterchef is a real pot-boiler
* I'm with Whatsisname
* Change is on the cards
* You are what you read… maybe
* In the hairdresser's chair
* A vacation is as good as a holiday
* Don't bank on a conversation
* A city for time travellers
* The motherhood choice
* Do you want fries with that marriage?
Image Credit: CSA Images/ B&W Archive Collection/Getty Images.